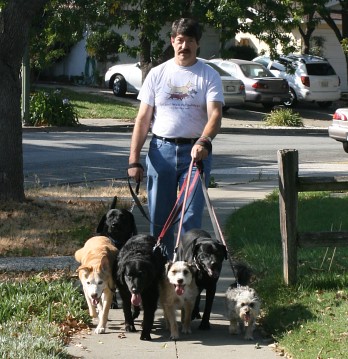 High-tech Pet Sitting and Dog Walking
iSit and iWalk Pet Services offers unique and affordable high-tech Pet Sitting and Dog Walking services for the Internet age.
Offered Services
We offer the standard dog walking, pet sitting, house sitting, pet transportation, overnight stays, pet shopping, and pooper scooper pet care services.
However, we also optionally offer special extras, such as:
Online Client/Sitter Scheduling
Customers are provided your own online account to schedule, review, and modify your contact info, pet info, and service requirements.
Web Camera for Pet and House Sitting
If desired, a web camera can be placed in the your home to allow you to check in on your pets and your home while away. You can simply select a special web browser address, or use an iPhone web cam app, to view your pets in a live, private, and secure video stream.
Text and Email Messages
All pet visits can be optionally confirmed through email, SMS text messages, or phone call.
We also offer a daily report card to customers in a mobile phone text message and/or email message.
These services provide the pet owner with daily reassurance and allows the vacationing owner a chance to relax knowing that their pet is in good hands and is doing well.
---
See our Services page for current
pet care services and rates.
---




Like with Google +1


iSit and iWalk Pet Services is licensed, bonded and insured.